I have succumbed to peer (blog) group pressure and crossed over to the dark side ... knitting.
And I likey.
A lot.
I was one of those people who was so obsessed with sewing that I didn't get the fascination with knitting; It just didn't interest me. I was getting increasingly nervous about the number of seamstresses who were learning how to knit. I felt like I was the only kid who didn't have a pair of knitting needles in my back pocket like nun-chucks. And I'd seen knitting patterns. They looked like my 8 month old son had started bashing my keyboard with his tiny future-sewing wrists. I mean what the H is 'kfbl, k1, ssk, kbl'??
So I decided to take a class with the wonderful ladies at
Handmakers Factory
and see what all the fuss was about.
You know that moment where Harry Potter holds his wand for the first time at Ollivander's and he's shrined in a gold aura and shiz starts flying around his head? I had one of those moments with knitting. Not as strong as my sewing buzz, but it was definitely an awakening moment in me. P.s. - Wands totes look like knitting needles. Just saying.
So naturally my obsessive nature wanted to start knitting a garment straight away. There would be no long scarf or beanie for me to begin with. That would be too sensible. So when the Hand-makers Factory announced they'd be doing a
Miette Cardigan
knit-a-long
I decided to give it a crack.
And here it is in all it's beginner glory!
The pattern is by
Andi Satterlund
, a talented lady with a penchant for vintage knits.
The instructions were extremely well written, which is very favourable for a beginner knitter. The pattern is also FREE! Another great thing about this pattern is that there are no seams! Truly! So if you're nervous about knitting because you don't know how to put all the finished pieces together, this is a great way to start.
I knitted this bad boy up in the 42" bust size using a wool/cashmere/silk aran yarn. I made the sleeves slightly shorter to match the shortness of the cardigan.
I love the lace detailing on the cardigan and once you get your head around the different types of stitches it's actually pretty straight forward.
The answer to the question 'What colour buttons go with a blue cardigan?' was of course: BLING! I am a sucker for shiny sparkly things, and I like the girly-ness it adds to cardigan.
My only regret with this cardigan is that I made it in the large size. It fits nicely, but the pattern is supposed to have two inches of negative ease, and there is none on my finished garment. In fact there is a bit of excess yarn hanging around the sides where my boobs and arms underarms are. It's also a little baggy on the arms. But meh, I think it still works.
PROS of knitting
You can do your knitting any where! On the couch, on the train, on the beach, on the treadmill (what?); it's so easy to cart around. How often have I longed to be able to take my sewing everywhere!
CONS of knitting
Knitting takes a loooot longer that sewing, but it's sort of therapeutic.
The biggest problem with me knitting now is that I now have a fabric stash AND a yarn stash. I know I'm going to end up on one of those hoarder shows one day, except that my house will be full of fabric and yarn.
MOST UNEXPECTED THING about knitting
Wet blocking - you want me to do what now?
WEIRD ASSOCIATIONS with knitting
What slipknot meant to me in 1995 and what slipknot means to me now in 2013.
click on the picture to see it on instagram
Sewing News
Now to some sewing news, I am excited and a whole lot of nervous to announce that I am a contestant in the next round of
Project Sewn
!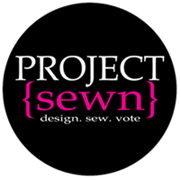 The other contestants are amaze-balls, so I'm totally thrilled and honoured to be participating along side them! Click on the button above to check them out. They are some talented ladies! I'm looking forward to seeing what delights everyone comes up with!!
And that's it! My first ever knitted garment! You can check me out on Ravelry here
Any one else recently started knitting or thinking about starting? It's ok you can tell us. You're safe here.